Erika's Blastoise is
Erika
's starter Pokemon. He debuted in Gabe & Erika: Two Friends Unite as a Squirtle.
Erika received Blastoise as an Squirtle from Professor Oak at the same time Gabe received her Charmander and Crystal received her Bulbasaur. He made his first appearance in Gabe and Erika: Two Friends Unite in the Gabe's Kalos Pokemon Adventures where Erika joins Gabe, Cilan, and Crystal. Team Rocket attempted to steal her Squirtle a couple times along with Crystal's Bulbasaur and Gabe's Charizard. He is at level 56. During a training battle with Crystal, Squirtle evolved into a Wartortle at the same time Crystal's Vulpix evolved into a Ninetails. During the second season of Gabe's Kalos Pokemon Adventures, Wartortle evolved into Blastoise. Professor Sycamore told Erika that Blastoise can Mega Evolve.
Personality
Edit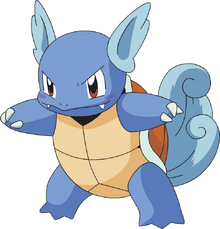 Blastoise is loyal to his trainer and obeys her. He likes traveling with Erika.
Ad blocker interference detected!
Wikia is a free-to-use site that makes money from advertising. We have a modified experience for viewers using ad blockers

Wikia is not accessible if you've made further modifications. Remove the custom ad blocker rule(s) and the page will load as expected.